Massage Modalities
Spa Treatments > Stone Massage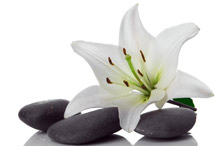 Warmed river stones have been used for many years during massage by many indigenous people to help warm the body physically and spiritually.
During this massage, warm stones act as the primary method of massage and will be used to treat the whole body during the course of your session. Stones are commonly placed to rest upon the chakras or stubborn muscles to help melt the tension away and soften the tissue prior to massage.
Another treat which can help bring circulation to the surface of, and tonify the skin is to alternate cold and warm stones. Sounds crazy, I know, but is a delightful tactile experience! Give it a try...
Note: Stone massages are available only in 90 minute sessions ($185).
Other spa treatments we offer here at Namaste include: