Massage Modalities
Massage Enhancements
Upgrade your massage experience at Namaste Bodywork by adding one (or a few!) of these delightful enhancements to one of our massage or bodywork treatments.
Thermasoft Soyaffin
A luxurious, delicious treat for the hands and feet (and a better alternative to paraffin), this self-heating treatment uses a blend of shea butter, beeswax and soy extracts that penetrate to deliver rich moisture for long-lasting, luxuriously soft and supple skin.
Thermasoft soyaffin is an all-natural, petroleum-free conditioning serum which draws out toxins to naturally promote cellular repair, leaving skin gorgeous and silky smooth. Therapeutic warmth not only feels wonderful while melting stress away but also comforts unpleasant conditions such as arthritis, carpal tunnel, and poor circulation.
Incorporated into allotted treatment time. ($15)
Face, Neck, & Scalp
Refreshing facial massage teamed with a vigorous scalp massage enhanced with the essence of citrus and pine to allow you to face the world with renewed vibrance.
Add an additional 25 minutes to your treatment time. ($35)
Foot Refresher
Put your best foot forward with our invigorating Tea Tree and Peppermint Foot & Lower Leg Refresher, which includes soak and exfoliation, warm towel wrap and stimulating lower leg and foot massage.
Add 25 minutes to your treatment time. ($35)
Hot Towels
Add hot towels for you face, neck, back, hands, or feet to your massage treatment
Incorporated into your allotted treatment time. ($15)
Aromatherapy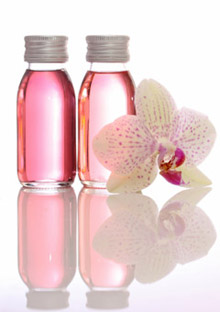 Aromatherapy is the application of essential oils to help to facilitate and enhance the body's natural defenses against ailments and disease.
Some of the rejuvenating scents and oils we use here at Namaste Bodywork include...
lavender - calming, skin soothing
arnica - reduces inflammation, soothes muscle aches, sprains and bruises
wintergreen - stimulating, analgesic (pain relieving), lowers blood pressure
rosemary - improves mental clarity and focus, helps liver conditions, respiratory infections
citrus - invigorating, uplifting
peppermint - stimulating, analgesic, uplifting, relieves arthritis
juniper - detoxifying, increases digestive circulation and purification
grapefruit - metabolic stimulant, cleansing, anti-depressant
blue cypress - anti-inflammatory, anti-viral
eucalyptus - decongestant, helps respiratory conditions
lemon - improves mental focus, immune stimulant, anti-septic
cypress - improves circulation, strengthens capillaries
ginger - digestive aid, helps respiratory infections/congestion
tea tree - soothing for many skin conditions, purifying, anti-bacterial, anti-fungal
pine - revitalizing, relieves anxiety and arthritis, lymphatic stimulation
petitgrain - helps alleviate anxiety, insomnia, muscle spasms
We also offer a variety of special oil blends, including a special Purification blend, an invigorating Energizing blend, a soothing Relaxation blend, and an effective Detoxifying blend.
Another aromatherapy treatment we offer here at our massage studio is Raindrop Therapy, a fantastic method for rejuvenating your body and mind.
Warmed River Rocks
Warm stones treat only selected parts of the body during the course of your session.
Stones are commonly placed to rest upon the chakras or stubborn muscles to help melt the tension away and soften the tissue prior to massage. Warmed stones can also assist in lymphatic drainage as well as bringing more circulation into an area.
No additional charge or time for the addition of warmed river stones to your massage. Please mention stone enhancement when booking.